About Wisuki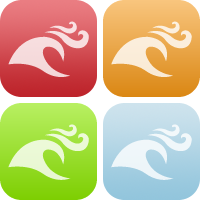 Wisuki is a different approach to wind and waves forecasts with exciting new features, like wind and wave alerts in most countries, that can help you to plan even better your surfing, windsurfing, kitesurfing or sailing sessions, and that will allow you to discover new spots with unsuspected great conditions.
If you wish to collaborate in our project or you got some feedback, we will be happy to hear from you. Please, use our contact form.
Wisuki is available in Catalá, Deutsch, English, Español, Français, Nederlands, Português, Suomi, 中文.
Wisuki project is supported by the interactive agency Cool Z.
Wisuki Newsletter
Introduction to Wisuki Alerts
Media mentions
30/06/2013 La nouvelle application à mettre dans ton iPhone at MANGO SURF
07/01/2013 Wisuki apuesta por la alta resolución at TRICKON
09/11/2012 Wisuki Alerts Review: Beyond Wind & Wave Forecasts at IN MOTION KITESURFING
09/10/2012 Quiksilver Pro France y nueva app surfer! at LOVING SPORTS
05/10/2012 Wisuki: Keep Track Of The Surfing Conditions Anywhere at MAKE USE OF
03/10/2012 ¿Practicas surf o windsurf? Wisuki, la app de previsiones de olas y viento es para ti at UNIVERSAL PLACES
27/09/2012 Wisuki, previsiones dirigidas al Surf, Windsurf y Kitesurf at WWWHATS NEW
27/09/2012 Introducing Wisuki at WINDSURF.ME.UK
19/09/2012 Wisuki Previsión de Olas at LAESCO
06/09/2012 Le nouveau service météo pour ne plus rater une session! at MANGO SURF
Quotes
01/11/2012 I think you guys have done a great job so far. said IN MOTION KITESURFING
28/09/2012 No introduction needed, just enjoy the discovery. said BOARDSEEKER
27/09/2012 Great looking site and nice interface! said KITESURF MAG
10/09/2012 Hey mate, site looks cool! said RIPTIDE
Press